As dogs age, their joints and muscles can tire much more easily than when they were younger. This can be especially true with large breed dogs.
Many senior dogs will require a ramp to help them climb into and out of a vehicle, or other higher places. A dog ramp for large dogs should be sturdy and should make the dogs feel secure when they use it.
There are many different dog ramps available so it's important to find one that is designed for use by large breed dogs. The following are the top 10 dog ramps for large dogs based on consumer report.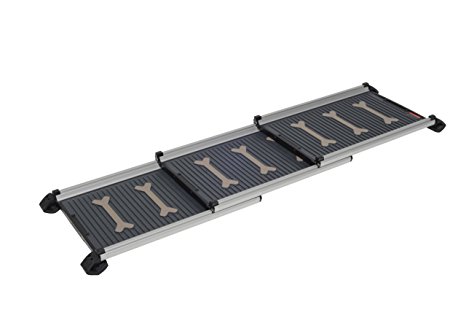 This ramp is lightweight and has a non-skid surface to help prevent your dog from slipping. The ramp has a telescopic design for easy storage. It can fit into the trunk of most vehicles to use when traveling with your pet. The design also allows you to easily fold and unfold with only one hand, which can be very helpful if you're holding onto your dog with the other hand. The ramp can support a dog up to 220 pounds.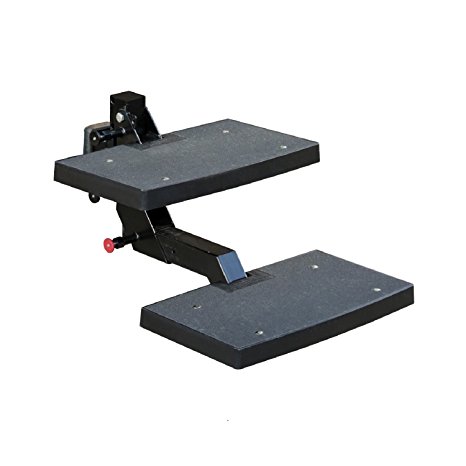 The Solvit PupStep HitchStep has an adjustable height to fit any vehicle. This device attached easily to the hitch to provide an easy way for your large dog to climb into the back of the car. It can hold up to 200 pounds. The steps on the product are wide and have a textured surface to provide traction and stability. The trunk can still be opened with the steps in the upright position. They are easily removable for storage.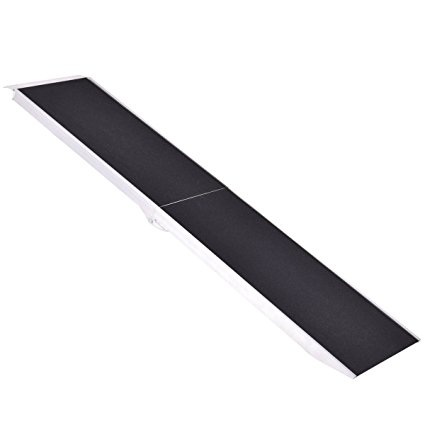 This ramp can accommodate dogs up to 250 pounds. This ramp is available in 6′, 7′, pr 8′ lengths for a custom fit for any vehicle. It has a high traction surface designed to be paw friendly to help dogs feel secure when using it. This ramp works well for vans, SUVs, and trucks of nearly any make or model. It's made of lightweight aluminum and weighs less than 17 pounds.
This ramp is perfect for those with very large dogs as it can support up to 300 pounds. The ramp is lightweight but very sturdy with a textured surface that is OSHA approved for traction and stability. The ramp has non-slip feet at both ends to keep it in place. It is telescoping and can extend from 41.5″ to 70″ easily and quickly. The ramp weighs only 16 pounds.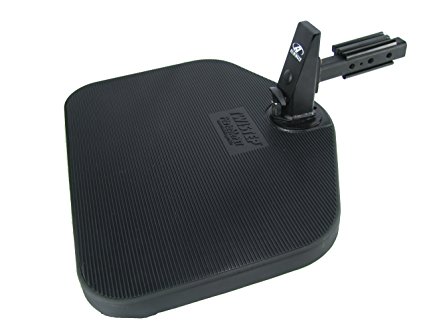 The Heininger dog hitch step can be used for people or pets and it accommodates weights up to 400 pounds. This unit attaches easily to a hitch on most vehicles and it doesn't need to be removed when not in use as it simply folds under the bumper. The hitch is easy to pull out when needed and it can be done with one hand while you hold your dog with the other hand. It comes fully assembled and can be installed in minutes.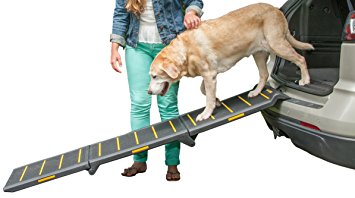 This ramp is designed to be extra wide to work well for pets that may be unstable when walking. It can hold up to 200 pounds. The ramp folds easily for storage and it has a handle for convenience when traveling. This ramp is equipped with a slip-resistant surface and reflecting materials to help dogs walk up and down safely.
This telescoping dog ramp is made of aluminum and plastic to make it lightweight and easy to move around as needed. It works well to help large dogs get into and out of cars and other high places. This ramp can support up to 400 pounds, making it ideal for other uses around the home. It extends from 39 to 72 inches and can be folded to put into the trunk of most any vehicle for travel.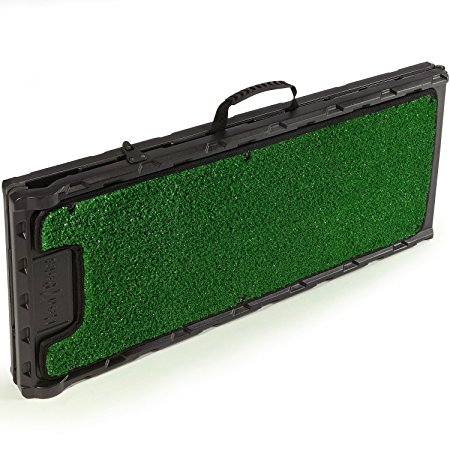 This pet ramp from Gen7Pets is covered with poly-grass to give dogs a safe feeling when using it. The ramp can extend to 72″ long and it supports up to 250 pounds. It has a soft grip handle that allows you to travel and store it easily. It also opens and folds easily and it has one of the widest walking paths available for dogs that are unstable or need the extra space.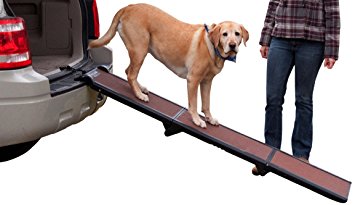 The Pet Gear tri-fold ramp can support up to 200 pounds. This ramp has a slip-resistant surface for sure footing for senior pets. It also folds easily and compactly for storage and can fit into the trunk of nearly any vehicle. It has a handle for portability and rubber feet on the bottom to prevent slippage when in use.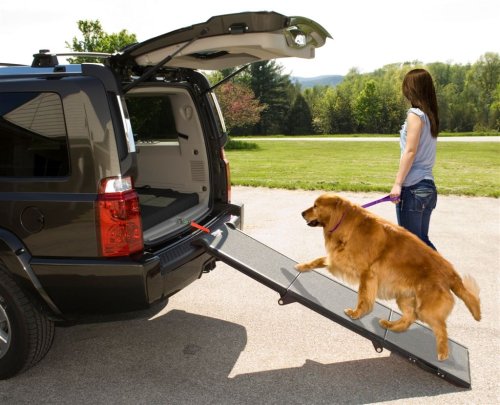 This ramp from Pet Gear is similar to the previously mentioned ramp but is extra wide for pets that are larger or need extra space when climbing. This ramp can hold up to 200 pounds. It folds compactly for storage and travel and can easily fold open in seconds. It has a skid resistant surface to help pets walk up and down the ramp safely. Many dog owners see the negative effects of aging in their large dogs through limited mobility and difficulty jumping. There are times when you need your dog to get into and out of a vehicle safely and a secure dog ramp can help with that. Be sure to look for a ramp that is wide enough and sturdy enough to support a large dog.
When shopping for a ramp for your large dog, you can read reviews of the different options to find the best one for your needs. These types of reviews can offer information on how easy the ramp is to set up and fold away. Whichever ramp you choose, it will provide you peace of mind that you're making your dog's life easier and less painful when they need to climb.