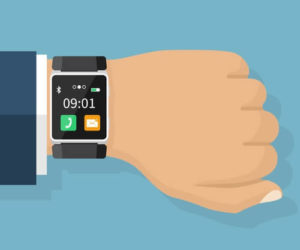 Although smartwatches have existed for a long, long time, their foray into the mainstream is only recent. With companies like Samsung, Apple, Asus, Huawei, and several others are working day and night to improve the watches, and truly make the experience a lot better.
Amidst all this, there lies the consumer mindset that still believes that the traditional, analog watches are way, way better as they are crafted with great precision, as well as perfection. This has led to numerous debates how smartwatches shouldn't exist, or are considered bane of the wrist watch concept.
Still, for people who actually prefer their watches display all the necessary information that comes to their phone, all tied into one ecosystem actually consider smartwatches to be very useful, and following that into the market, the smartwatch industry at this point is creating a separate entity for itself.
Best Smartwatches 2019
This has allowed the manufacturers to push better and better smartwatches into the market, allowing their consumers to have a sense of choice when it comes to finding the right product that caters to all their needs from a wearable device.
Features such as heart rate monitors, and plethora of other sensors have made their way into the smartwatches, allowing them to truly transform the wearable experience into something better, and versatile at the same time.
Since the market at this point is filled with smartwatches of all sorts, we took it on ourselves to take a look at the finest smartwatches you can buy, but first, we are going to be looking at some of the important information about the smartwatches.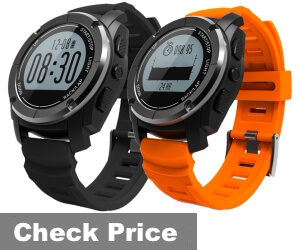 If you are looking for a great smartwatch that does not cost a lot of money, the S928 Sports Watch might be a great option. It is one of the cheapest smartwatch on my list, and while I am normally adamant when it comes to testing such items, it intrigued me to the core.
The watch is designed rather simply, and instead of having a fancy display or high resolution, it uses a simple, monochromatic display. Honestly, I do not mind that at all, smartwatches are all about being simplistic in my opinion, and the S928 Sports Watch does a great job at that.
Where it lacks a display, the S928 Sports Watch makes up by providing some of the best features that you can want in a smartwatch. In order to make things easier for the reader, I am listing down the features below.
Heart Rate Monitor: The watch comes with a heart rate monitor that is able to provide real time heart rate updates.
GPS: The S928 Sports Watch also come with a built in 3D accelerometer gyroscope3D, allowing the users to be able to track every move they make throughout their workout regime.
Outdoor Data: The watch is also capable of keeping a record of the outdoor data, meaning that you get real time updates on how the weather condition is outside. Allowing you to be able to plan your workout carefully.
These are some of the basic or advanced features that are in the watch. While they may not look enough, it is important to know that these features work throughout the entire ecosystem of the watch, allowing these sensors to take full control of the situation.
The smartwatch can be controlled through an app that is available on both iOS and Android. Honestly, the app is as basic as it can get, and can use a bit more polish. There are a few more things that I did not understand about the watch; you cannot change the time format to 12 hours if you want to.
In addition to that, the watch itself only supports English as a language, while the app itself has 12 languages in total. This inconsistency can be an issue for people who don't have English as their primary language, and even though 12 languages are nice to have, they are just enough.
The good thing here is that the app is being constantly updated by the developer, so I can assume that additional languages will be added sometime in the future. Same goes for the watch as the firmware can be updated when released.
All in all, the S928 is a decent smartwatch for Android, it is inexpensive, works as it is supposed to, and does not come with unnecessary features that can drain the battery. I would say that this smartwatch comes with the bare essentials, and definitely has a market amongst the giants.
Sure, the lack of advanced features, and languages is alarming, but you also need to take price into consideration when you are reviewing a product.
Pros
Simple and likeable design
Good looks and build quality
Plethora of sensors
Works with Android
Cons
Severe lack of extra features
App is not as polished
Only supports English language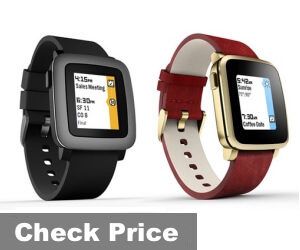 While several companies are trying to create a breakthrough in the smartwatch market, Pebble is keeping things nice and simple for people like me who prefer simplicity over anything else. I say hello to the Pebble Time Smartwatch, a very simple, and probably amongst the cheapest smartwatches in this list.
Opening the box surprised me through and through, the watch was simply put in the box, and looked very minimal. It comes in a rubber band strap, or a steel strap for those who want to have a choice. The watch I have comes with the steel strap, and I must say, it looks premium for the price.
The Pebble Time Smartwatch has an always-on reflective colour display that looks good enough, but is on the dimmer side when you are looking at it under direct sunlight. It also comes with water resistance, allowing you to wear the watch even in the showers or in the rain.
I am pleased to say that the watch also happens to have a pretty decent battery time, it lasted me 4 days. However, I have to point the fact out that the use was not constant since I charged the watch in between the days but never charged it to the full. Still, it goes without saying that the battery timing is good.
The watch also has onboard storage that can hold slew of your favourite apps that are compatible with the watch's OS. While I do not mind a watch without inbuilt storage, having this feature is a good thing. Obviously, with all the storage, you can store whatever you want on the watch, and load it with apps.
Another interesting thing I like about this watch is the fact that it can support watch faces that are built for both Android and iOS. Meaning that you will never run out of these faces when it comes to customizing your watch the way you prefer. Majority of the supported apps are also free.
There are some things that I do not like about the Pebble Time though; the fitness trackers are there along with all the sensors; the apps they use look very unpolished. The display is also a bit dim in broad day light, and gets hard to read.
Another concern that I have to raise is that despite the fact that there are countless watch faces and apps, the quality is a mix. You can find some really amazing apps and watch faces right next to some really bad ones, and sometimes a lot of bad ones at the same time.
Lastly, my biggest issue with the smartwatch is related to the fact that there is no touchscreen on it. This makes the navigation a bit difficult for me, especially when I just want to get things done.
In conclusion, the Pebble Time smartwatch is a great option for people who are looking for the best smartwatch under $100. It's inexpensive, looks simple, has a lot of features, and a long battery life. Some minor inconveniences cannot hold a candle against the watch.
Pros
Simple, understated design
Plenty of apps and watch faces
Watch faces from Android and iOS work
Good battery life
Water resistant
Cons
The display is dim to read under direct light
Not all watch faces and apps are as good
The fitness apps are not polished enough
There is no touch screen
Samsung Gear S3 – Modern with Lots of Features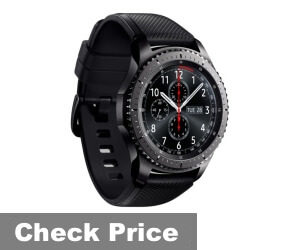 For years Samsung's Gear series of smartwatches have been dominating the market for all the right reasons. This is what happens when you take clever marketing and amazing products in order to combine them together. The Gear S3 is definitely one of my favourite smartwatches.
Right out of the box, you can tell that the S3 is a top smartwatch; released earlier this year, the S3 focuses on everything that was right in the previous versions, and adds even more features than before. Sure, I know it costs comparatively higher than some of the other options on the list, but it is okay.
Starting off, the build quality is extremely pleasing, with premium quality materials used throughout the construction. The watch definitely feels like a fashion statement as much as it feels like a premium smartwatch.
Unlike some of the other smartwatches in the market, the Gear S3 does not run on Android Wear, instead, it runs on Samsung's own OS called Tizen. Before my review, I had my doubts about this OS as it is still something new, and unknown to me.
Luckily, upon using the watch for a week, I can say that the OS is promising, however, the severe lack of apps may keep some users at bay. Samsung recently pushed an updated to this watch, allowing you to save offline Spotify playlists onto the 4GB of storage.
This feature makes my life easy because I no longer have to rely on my data connection to listen to the music whenever I am outside. The Gear S3 has an animated always-on display, and unlike some of the other watches I use on a standard basis, this is one gorgeous display, courtesy of Samsung.
Another great thing that I like about the Gear S3 is the fact that it comes loaded with activity trackers of all sorts, and while several people might feel skeptical about it, especially when you think about the amount of permissions it requires. It actually is not that big of an issue to be honest.
The Gear S3 also offers a great, intuitive interface that is among the best I have seen in any smartwatch. All of these good features combine and make this a top smartwatch. However, I do have some concerns that are necessary to be list out.
For starters, the watch looks big on your wrist; now that is something that completely depends on how your wrists are. This is a subjective issue by all means, but I still believe it is important to point it out. Another thing that was a disappointment was the sheer lack of proper apps.
That is mainly due to the fact that Tizen is still a smartwatch OS that is developing, and becoming better. If you are okay with these minor inconveniences, then I can tell you that the Samsung Gear S3 is definitely one of the best smartwatches 2017.
Pros
Excellent build quality
Beautiful display
Loaded with features
Array of sensors and trackers
Cons
Not enough apps
Might be too big for some users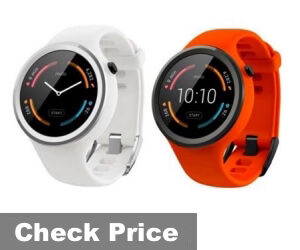 To this very day, the original Moto 360 remains among the list of my favourite smartwatches, the understated and minimalistic design is something to die for. After several years, I am looking at the Motorola Moto 360 Sport. A newly released version that is more suitable for sporty users.
I am glad to see that Motorola is still following the design language of the original Moto 360 with some minor tweaks here and there. This was one of my biggest concerns when Lenovo acquired Motorola a few years ago, but after seeing the Moto 360 Sport, it is no longer there.
The 360 Sport drifts away, and does not present itself as something fancy, and while it is built for people who prefer to remain active, and enjoy sports a lot. There is nothing that will stop an average consumer from using this.
I do not play much sports, and despite that, the watch welcomes me with good amount of features. The design is still understated, and looks good. However, I cannot bring myself to understand the presence of that small chin that still resides on the watch face.
It is something that has always bothered me, and even though it is no longer as prominent as it used to be, I can't help but wonder the reason for it. Now my favourite thing about the Moto 360 Sport is obviously the screen, and not just the screen itself, the tech that goes into it is amazing.
Now the reason I am praising the screen so much is because while the screen may look the same to everyone, it uses a clever tech that Motorola is calling AnyLight display. When the user is looking at the watch under the normal light, and actively using the watch, it looks your standard LCD screen.
However, as soon as the watch goes idle, or there is direct light on the watch faces, the screen turns itself into a transreflective display. A display that I have seen on the Pebble Time watches. This feature is to make sure that the battery life gets preserved, and the user is able to read the time and date with ease.
Speaking of battery life, it saddens me to say that it is not as good as I had expected. Sure, smartwaches use smaller batteries as compared to our other devices, but they are supposed to be efficient enough to power the watch throughout multiple days.
Sadly, such is not the case with the Motorola Moto 360 Sport; on a full charge, the Moto 360 Sport lasts a full day or slightly higher if you refrain from using it that often. It is not terrible for a lot of people because they put their devices on charge before sleeping, but not the best either.
Another thing that I should point out is that despite being a watch that is built for active users, there is no way you can do multi-sport tracking on the watch. Something that is strange for a watch that is centered around sports. Last but not the least, the heartrate sensor is somewhat unreliable.
If these issues do not bother you, and you are still looking for something that is minimal, does not cost much, and gets the job done, then the Motorola Moto 360 is one of the best smartwatches that you can buy. Sure, the issues are there, but for many people, they are just subjective.
Pros
Simple, practical design
Screen tech is one of the best
Comfortable and easy to wear
Cons
Battery life is disappointing
Heartrate monitor is not reliable
Does not have multi-sport tracking
Xiaomi Amazfit – Budget-Friendly with Great Battery Life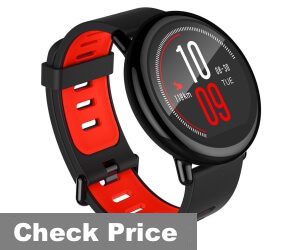 Xiaomi has been one of the best companies out in the market releasing some fantastic budget friendly products. Their smartphones, as well as other accessories have always been budget friendly. Today, I am looking at their take on a smartwatch. The Xiaomi Amazfit is here to see if it can find its place.
I love how Xiaomi designs their products, making them look and feel high end. For the most part, they do use high end components and materials. This removes any doubt as to whether or not the overall quality is good.
The Amazfit is carrying a nice design, and build quality as well. It is just the right amount of classy with flashy elements and I do not mind it at all. It uses the same transreflective display that is becoming more and more common in the majority of smartwatches that come out.
The display is easy to rid, bright enough, and looks good. Another good thing about the Xiaomi Amazfit is the battery life. On a full charge, the battery can last anywhere from between 3-5 days. This is undoubtedly one of the best battery timings I have seen in a smartwatch.
The good thing about Xiaomi Amazfit is that it does not cost a lot of money, so anyone who is on a budget, and looking for a cheap smartwatch, this is definitely a good buy. With the Xiaomi Amazfit, you also get features such as Bluetooth, GPS, and a plethora of sensors, and fitness trackers.
On paper, the Amazfit does look like a complete package, and almost like the perfect smartwatch, however, there are some things that are just not good enough. To begin with, the firmware is somewhat cumbersome. Now this issue can be fixed with a firmware update, but for now, it has to be tolerated.
Another thing you need to know about the Amazfit is that the app that comes with it happens to be very basic, you only get the bare minimum, and that is about it. The fitness activities are also limited on the Amazfit, and last but not the least, it uses a charging dock that is proprietary.
These issues sure raise some concern, but the good thing is that they are not going to break your overall experience when it comes to the usability. There is no denying that the Xiaomi Amazfit is a wonderful smartwatch that is suitable for a lot of people.
It lacks the advanced feature and the companion app is not really that good, but these are issues that can be fixed down the road.
Pros
Stylish design
Great display
Amazing battery life
Cons
The firmware needs some fixing
The companion app does not have a lot of features
Limited fitness activities
Huawei Watch 2 – Lightweight
and Comfortable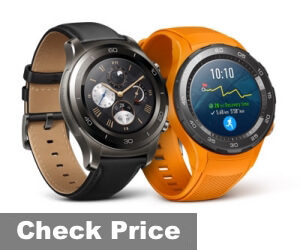 In my opinion, Huawei is one of the companies that tried to make the smartwatches relevant by perfectly mixing the design elements of traditional watches with the advanced features of smartwatches. The Huawei Watch 2 is a testament to what they have achieved.
The Huawei Watch 2 comes with Android Wear 2.0, the OS is a huge improvement over the original Android Wear, and definitely has a lot more features than the original did. I realise how it is important for all the watches to be comfortable and lightweight enough to wear, and the Huawei Watch 2 nails it.
The watch can be worn the entire day without feeling uneasy, or too much to handle. Considering how the watch comes at a higher cost as compared to the other watches, it is only fair that you get good amount of options. The Watch 2 does deliver on that front by providing several options to the user.
It has plenty of sports sensors, and other fitness sensors as well, and that is not all; the watch also has a feature known as the real-time workout guidance. This is amazing for everyone who is on the lazier side and want the watch's guidance system to help them out here.
Thanks to a plethora of sensors that are in the watch, fitness and activity tracking are spot on, allowing you to track almost anything there is to track. It also makes me happy to say that the watch can last up to 2 days on a single charge.
For those looking for more, I am happy to tell you that the Watch 2 also comes with Bluetooth and NFC. This makes the whole concept of Android Pay a lot easier, especially in countries where it is available. Having Android Pay up and running almost eliminates the purpose of carrying cash.
I am very much happy with the Huawei Watch 2, there are some things that I wish were different, but it seems like it is going to change in the next Huawei Watch. For starters, the design is not the best quality of the watch. Sure, it is simple and practical, but at the same time, it is also uninspiring.
The design issue also carries on to the fact that the Watch 2 has a small screen coupled with thicker bezels. It would not have been an issue if the screen size was a bit larger to properly adjust the bezels, but that is not the case.
In conclusion, the Huawei Watch 2 is an amazing smartwatch with some shortcomings, luckily, the shortcomings are not enough to push the customers away. This makes the Huawei Watch 2 one of the best smartwatches 2017, and definitely something you should check out.
Pros
Great battery life
Android Wear 2.0 is amazing
Watch is lightweight, and comfortable to wear
NFC for Android Pay
Watch also has Bluetooth
The display is amazing
Cons
Small screen
Large bezels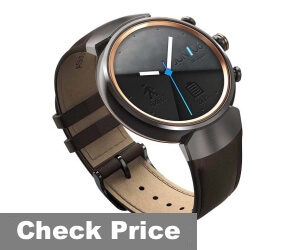 Asus may not be doing well in the smartphone industry, but the same can't be said about how well they are doing with their series of smartwatches that they have been bringing out in the market for the past couple of years.
ZenWatch series is one of my favorite smartwatch series and for all the right reasons; it looks good, I trust Asus when it comes to the hardware, and it because it is one of the few smartwatches that are looking into the future rather than focusing on being simplistic.
The ZenWatch 3 is one of the few smartwatches in the market that come with a nearly bezel-less design. This goes to show how Asus is preparing for the future, and honesty, I love it. The watch has all the style elements you would want from a modern-day smartwatch, and it is comfortable to wear.
It carries just the right amount of heft without overdoing anything. The display is one of the redeeming qualities of the watch as it happens to be big, bright, and beautiful, plus the screen is AMOLED, making it even better. These factors easily make the ZenWatch 3 a watch with one of the best displays on the market.
The ZenWatch 3 is also great when it comes to the overall construction and build quality. Asus tells me that the ZenWatch 3 uses 316L steel construction. Now, these numbers may not be important to a lot of people, but this is jewelry grade steel I am talking about here.
The face of the watch is covered with 2.5D Corning Gorilla Glass, making it resistant to scratches as well as other scuff marks. Still, if you want more protection, they do sell some screen protectors that you can always opt for.
As far as the battery is concerned, the Asus ZenWatch 3 has what I would call a decent battery life. It is not going to last you multiple days with a single charge, but during my testing, I was able to get at least 1.5 to 2 days at standard use. I think it is pretty good.
The ZenWatch 3 also comes with all the basic features like fitness trackers, and a plethora of sensors that you could ask for. However, I have to say that for a watch this good, I am disappointed about the lack of properly fleshed out fitness tracking.
Do not get me wrong, you can track fitness, it is just not as deep as some of the other watches that are in the market. This makes me wonder if Asus wanted this watch more approachable by the people who do not want the witness tracking or have no concern with it.
Another thing I cannot understand is why Asus opted for a charging dock that just feels cheap to use. I mean, Asus is a company known for creating some of the best-built products. Their computer division is the living proof of it.
It is only sad to see that they did not pay the same attention to detail to the accessories that come with the watch. Yes, the watch itself is extremely solid and sturdy, but I cannot say the same about the charging dock.
In conclusion, the Asus ZenWatch 3 is a bag of mixed things; there are some great thing about the watch like its premium screen, good battery timing, high-end construction material, and a great design. However, at the same time, you do not have good fitness tracking options and a charging dock that does not feel premium.
If you are okay with all of this, then buying the Asus ZenWatch 3 is a no brainer as it is easily one of the best smartwatches 2017.
Pros
Amazing construction
AMOLED screen is just too good
Lightweight and comfortable to wear
Decent battery life
Cons
Not enough fitness trackers
Charging dock feels cheap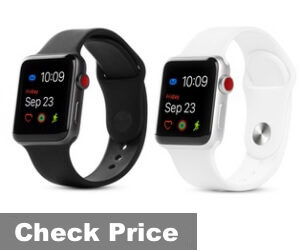 Although Apple did not invent the smartwatch, there is no denying that the company's dedication and participation in bringing the smartwatch to the mainstream market can just be overlooked. I have used almost all the Apple products that have come out during my life.
One thing I can say for sure is that their consistency is something that not many can rival. The Apple Watch serves as a statement that tells us that Apple is aware of what it is doing. In my opinion, the Series 3 watch does not need an introduction.
A step up from the older generation of Apple Watch, this smartwatch is making things better than they were. You still get the similar unboxing experience, and even the watch does not look a lot different as compared to the first version, but it is important to note that all the under the hood changes are there.
As soon as I turned on the Watch, the gorgeous OLED display blew me away. It is bright, and it is beautiful. Whether or not you believe it, but the display on this watch has 1,000 nits of brightness. This is an insane amount of brightness for a smartwatch, but I'm in love with the display.
Luckily, the display is not the only good thing about the watch. When it comes to fitness tracking, this may be the most fleshed out smartwatch in the market. There are just so many fitness tracking features and sensors available that you will never run out of any of them.
Not just that, even the fitness tracking apps are so good, that you just cannot help but appreciate the work Apple has put in the watch OS4. The watch also comes with GPS, making it all the more versatile, and allowing you to easily track your activities without any issues whatsoever.
Battery life is officially same as in the Series 2 – 18 hours. I think this is pretty conservative – during my normal usage, I get around 2-3 days of battery life on a single full charge. Sure, the mileage will definitely vary for different users, but for me, it works really, really well.
Apple is a company that focuses largely on the performance, even their old devices are still relevant mainly because of their performance. The performance on the Apple Series 3 Watch is so good; it is quick, fast, and extremely snappy. Allowing users to easily navigate through the menus.
The watch is available in quite a few models, depending on your size and preferences:
38mm & 42mm aluminum (Silver, Space Grey, and Gold)
38mm & 42mm Nike (Silver and Space Grey aluminum with custom Sport bands)
38mm & 42mm steel (Silver and Space Black steel)
38mm & 42mm Edition (White and Grey Ceramic with Soft White/Pebble and Grey/Black Sport band)
38mm Hermès (Marine Gala Leather Single Tour Eperon d'Or, Indigo Swift Leather Double Tour, Fauve Barenia Leather Double Tour)
42mm Hermès (Noir Gala Leather Single Tour Rallye, Indigo Swift Leather Single Tour, Fauve Barenia Leather Single Tour, Ébène Barenia Leather Single Tour Deployment Buckle, Fauve Barenia Leather Single Tour Deployment Buckle)
So, in conclusion, the Apple Series 3 Watch, is a great option for anyone who is looking to make sure that their smartwatch experience goes well. It has an amazing battery life, beautiful screen, and a great battery life to boot, allowing people to fully take advantage of the smartwatch experience.
The only thing that I did not like is the fact that the watch still looks somewhat like its predecessor, but that is a completely subjective aspect, and should not be an issue for everyone.
Pros
Gorgeous OLED display
Great battery life
Loaded with features
Plethora of fitness trackers
Long list of apps
Cons
Looks similar to the original Apple watch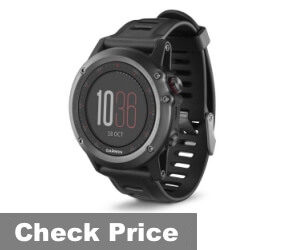 Garmin is a company that is known for their top of the line GPS technology that we have seen in so many different fields. So it was generally an exciting thing for me when I got the Garmin Fenix 3. One of company's brilliant smartwatches. I can tell right away that this watch is amazing.
The Garmin Fenix 3 can easily be called the holy grail of smartwatches simply because it comes loaded with features that you would want from a high-end smart watch. It has a big, beautiful, and bright display. On top of that, you also get a hard wearing body.
In case you are not aware, the body can take some abuse and still hold up, thanks to Garmin's choice of premium materials. The watch does come with the choice of a rubber band, or metal band. I have the one that has the metal band and I have to say, it is amazing.
The battery on the Garmin Fenix 3 is another one of its strong point. I charged the battery a week ago, and after a week of usage, I am still left with 50 percent left. This is by far the best battery timing I have seen on a smartwatch, and this does make the Garmin Fenix 3 my number one choice.
Another really impressive thing about the Fenix 3 is the amazing, over the top GPS tracking. Though this should not come as a surprise because of how good Garmin is in GPS technology. It is good to see the company reflecting its expertise into their products as well.
The watch is also water resistant up to 100 meters, easily beating the best of the best in the market in water resistant. You can take it to showers, swimming, diving, and it still will not give under the water pressure, or the depth. However, water type does depend as well.
The one thing I love is the fact that Garmin Fenix 3 is not trying to be a replacement of Apple Watch or Android Wear watches, it uses its own OS, its own app store, and still manages to hold its own identity. Not just that, it completely eliminates the competition that tries to come close.
Sure, I do have some issues with the watch like the fact that there is no activity tracker for golf unlike some other Garmin watches, and the watch does not support on-watch maps. Though these issues do not break the overall experience with the watch which is downright brilliant.
As a conclusion, I would only say that Garmin has done a fantastic job in creating a smartwatch that despite its unique identity, still manage to create a league of its own. Not just that, it will also serve as a benchmark for many more smartwatches to come in the market in the near future.
Pros
The best in class battery life
Premium construction
Loaded with features
The best GPS in a watch
Great display
Cons
Does not support on-watch maps
No golf activity tracker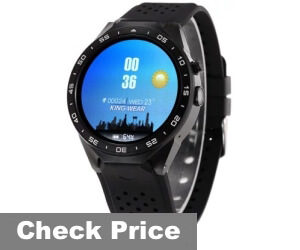 The last watch on the list is rather unusual. That is because it is not from some high profile manufacturer, as a matter of fact, it is from a Chinese company called KingWear. I found the KingWear KW88 while doing a research on smartwatches and it intrigued me so much that I decided to examine.
I make sure there are no expectations whenever I am reviewing a product, a lot like several of my readers. I was surprised when I realized that the watch is actually a lot better than I thought it would be. I can say that the KingWear KW88 is definitely the best smartwatch that can be purchased for under $100.
This is a very bold statement, but it is true. Aside from the weird features like a camera on the side, the rest of the watch is pretty standard. It does not run Android Wear, but a full-fledged, modified version of Android itself.
The overall operation is pretty smooth, and the watch does all the tasks you ask it to do. So, there no complaints whatsoever. It even has fitness trackers along with their respective apps that allow the user to properly keep a track of his or her activities.
It uses a 1.3 AMOLED screen, which basically means that you get saturated colours, great brightness, and amazing few angles. I cannot really create a fuss about the screen, especially not with the price tag this watch carries.
The watch also comes with Wi-Fi, Bluetooth, and cellular options; and although many people will not be interested in making calls through this small watch, it is still good to see that company is trying to squeeze in a decent amount of features that the users want.
You also get 4 gigs of onboard storage coupled with a quad core MediaTek processor. Honestly, this is where the real problem starts. You see, smartwatches are never in need of such a high core count, or such powerful processors.
So, when you pair a processor that powerful with a smartwatch, you get issues such as battery life. Iw as hoping it does not happen, but it makes me sad to say that the battery life on the KingWear KW88 is absolutely terrible.
Another reason behind the terrible battery life is the fact that it has Bluetooth, Wi-Fi, and cellular radios in it, and even if these are not being used constantly, they are still going to need power. Ultimately taking a huge chunk of battery with them.
On full charge, the watch lasts about 8 hours on normal use, less if you are heavy user. Meaning that your watch will run out of battery way before your day is over. Sadly, no amount of software patches will be able to fix this issue.
At the end of the review, I would only like to say that for less than a 100 bucks, the KingWear KW88 is a pretty good bargain. So what if it lacks all the fancy features of the top smartwatches that I have reviewed so far. It is built for a specific use case and audience, and it does the job it is supposed to.
You are not required to spend an insane amount of money on a smartwatch if you can get the job done with something that costs the fraction of the money.
Pros
Good amount of features
Comes with Bluetooth, Wi-Fi, and cellular data
Cons
Terrible battery life
No Android Wear
Pretty basic functions
Conclusion
For a traditionalist who loves expensive timepieces, reviewing smartwatches is not an easy thing. This was the first time I took them serious, and I am glad that I did. While the traditionalist in me will still choose a standard analogue watch over a smartwatch, I no longer feel like smartwatches are useless.
Simply put, smartwatches are made for people who actually want to use them. I realise that they are not here to replace your traditional analogue watches because they cannot do that. They are just here to provide a different experience to people who need them.
With that in mind, reviewing so many amazing smartwatches has been an absolute pleasure. It did not start as smooth as I thought it would do, with me running into confusion on multiple occasions. But after the hard work that went in testing all these amazing watches, and writing about them, I can say that I hope to test more in near future.
If you feel like I have missed an amazing smartwatch that should have been in the list, feel free to let me know so I can take a look at that again, and take it for spin. I no longer feel offended by smartwatches as I used to before I took up the review project.
List of Features You Should Look for in a Smartwatch
Although buying a smart watch is not a difficult task at all, it's important for us to know that not all smartwatches are made equally. Some come with their own list of exclusive features that are otherwise missing on other smartwatches.
Not just that, different smartwatches use different operating system as well; for instance, Android Wear is the common OS found in smartwatches made by the likes of Huawei, LG, Asus, and Samsung, while the watchOS is for the Apple Watch.
There are several other features that are either there, or just missing from these watches mainly based on the price tag that they're carrying. For anyone who is in the market for a new smart watch, all of this can be overwhelming, just like it was overwhelming for us the first time we decided to explore the market.
In order to know what the best smartwatches 2017 are, it is important to know what features that you should be in the smartwatch you are looking at. These features can also be considered gimmicks by people who don't intend to use them, but they are generally very useful in one use case or another.
Option for Voice Commands
Voice commands have come a long way when it comes to the way they operate, gone are the days when voice commands resulted in hilarious interpretations, or not working altogether. Thanks to assistants like Siri and Google Assistant, voice commands are better than ever.
It is only natural to assume that these commands can be extremely useful when it comes to smartwatches. Especially when you want your smartwatch to open a text and read it to you, or give you some other contextual information from within the app.
Sure, not many people may want to use the feature for one reason or another, but it is always nice to have something like a voice command because it is ultimately going to help you make the most out of your situation.
Support for Media Playback
This feature may not be useful for everyone but I love having the ability to play music on my smartwatch while out running. The concept is pretty simple, most smartwatches nowadays have Wi-Fi or cellular data, which means that they can connect to the internet, and stream music if you want to.
Similarly, these smartwatches also come with NFC, or Bluetooth, allowing the users to be able to connect their wireless headphones without any issues. Both of these features combine to make a great listening experience for people who like to exercise out or in the gym, but don't want to keep music on the phone.
Just keep in mind that not all smartwatches come with this feature. So, whatever smartwatch you choose, make sure that it does have the media playback option, as well as the support for Bluetooth headsets.
Array of Sensors
Another feature that you should definitely look for in a smartwatch is an array of different sensors. I am talking heartbeat sensors, and other similar sensors that can record vitals, or at least give you information that you can find useful.
For people who like to work out a lot, having a heartbeat sensor is great because it can give them information about beats per minute. There can be more sensors informing the person about the calories burned, steps taken, or the best workout regime it can come up with.
Simply put, sensors are really important in a smartwatch, and there is no way to look at it. Yes, you may have to pay a premium for the best possible sensors, but it is worth it.
Customization
Customization is something that I love, and I can speak for some of the other people that they do as well. It is only natural to want to have the ability to customize your smartwatch to some extent. I am not asking for features that will change the entire OS on my smartwatch.
However, customization such as the ability to change watch faces, or be able to use 3rd party watch faces that are created by talented developers and designers is something important. You cannot expect a person to stay with the standard watch face for the entirety of his/her time with the watch.
The more customization there is, the happier the user is going to be, even if it is on just software level. However, you should know that when it comes to smartwatches, the customization is not just limited to the software level.
Just like you put a case or a skin on a smartphone to change its appearance to an extent, you change the straps on the smartphone to make it look different, and be more comfortable. Although you get choice between rubber, leather, or steel strap, the good thing is that there are multiple colour options.
If you are buying a smartwatch, make sure it has the feature to change straps, allowing you to truly customize your watch the way you want it. This is not considered a feature, but something many people think is essential in a smartwatch.
Fitness Tracking
If you are not buying a smartwatch that is only made for fitness tracking, at least buy one that has the fitness trackers built into it. There are several watches from companies like Garmin that come with some amazing fitness tracking capabilities.
Yes, you do pay a premium for these trackers, but the good thing is that if you think you work out enough to keep a track on all your activities, and make sure that you are on the right track, having a watch with fitness tracker is a must.
If you are wondering, Garmin's Fenix 3 is a great watch and has a lot of fitness trackers. Similarly, high profile companies like Samsung and Apple are also really inclined towards adding fitness trackers that can help make the overall job a lot simpler and easier.
As a matter of fact, Samsung has a dedicated Gear Fit smartwatch that is intended for people who are into fitness tracking, allowing the buyers to spend their money wisely, and be able to buy something that is made for them.
Top Rated Smartwatches