As an artist, nothing beats the joy of seeing your creations take shape right in front of your eyes. If you are looking to unleash your creativity, get yourself a 3D printing pen and make prints in three dimensions. But the process of getting yourself one of these magic pens can get pretty confusing. There are too many brands to choose from, and some can be pretty expensive.
Also, the fact that 3D printing pens are a relatively new innovation doesn't help — not a lot of info out there. Having sampled a good number of them, here are ten best options to build an infinite variety of shapes and structures with ease
Before starting this list of the best 3d pens of 2019, let's examine this new technology.

What's a 3D pen?

Well, a 3D pen looks like a bulkier version of an ordinary pen or a pencil but instead of using lead or ink, the 3D pen operates using plastic.
There are probably a lot of questions in your head about how difficult it is to use or is it even a good thing? Well, using the 3D pen is no different than using a regular pen or a pencil. You hold it the same way and there are many different ways you can use it.

How does a 3d Printing Pen Work?
Before we begin exploring more about 3D pens, these instruments are not associated with 3D printers.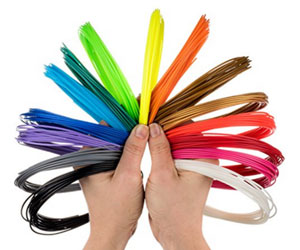 A 3D pen mainly uses plastic instead of ink. You insert the plastic filament and once it's inside the pen, it gets hot from the heating technology inside. The heat is intense enough to melt the plastic, and turn it into a liquid. After that's done, you can start using the pen to write on anything you want. The good thing about 3D pens is they work on almost all surfaces.
If you are in awe, we have seen similar technology before. For instance, the glue gun works on almost the same principle as the 3D pen. 3D pens come in several different colors that will truly bring out the artist inside of you.
If you are wondering what you can do with a 3D pen, the possibilities are limitless. Typically, drawings you create using a pen and pencil are two-dimensional. However, the 3D pen can add another dimension and make your drawings or artwork more realistic. Even though 3D pens are relatively new on the market, the market has a lot of them. There are hundreds of choices, and if you are inexperienced in this field, you may have a hard time finding the best 3D pen to buy.
Best 3D Printing Pens 2019
We have made a handy list which contains the 10 best 3D pens on the market. Each 3D pen mentioned has a brief review and features to help you get a better understanding of what you are buying.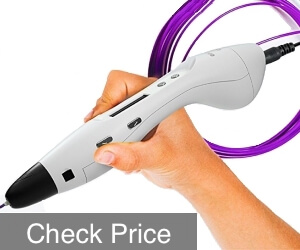 The Leo Evo 3D Doodler Pen claims that it is made for both professionals, and kids. Which basically means that while it does provide you with a lot of advanced features that would be appreciated by professionals and adults like speed and temperature adjustment it also has a variety of features that cater to kids like doodle templates and a variety of colourful filaments that come with it.
I was not sure how it is possible to cater to two completely different audiences at the same time so I was really excited to test this product.
Looking at the packaging, the pen does not really look like something you would get for an adult, but let's not judge a book by its cover, or in this case, a pen by its box. Taking the contents out of the box, you've got the pen, some filaments, and some templates that will make your user experience much easier, or at least the user experience of your child.
As far as the user experience of an adult, or a professional is considered, it is a bit different as compared to the experience for children. The use of variable speed and temperature is not as useful for the kids. Considering how the pen covers all the basics, there is nothing that you could ask more in the given price tag, because that could reflect on the quality being poor, or the pen being incomplete. You even get a screen that displays all the information so you should know that there is plenty of things that you are getting in the price tag.
To be honest, if I was reviewing a 3D pen that was much more expensive, the overall review would have been much more nitpicky; however, the pen and the features it offers you are aligning well with the price tag so it's a great value overall.
The Leo Evo 3D Doodler pen is good for a budget conscious user, great for children, and a good value for money, because of the doodling kits that come with it. Other than that, everything else is as basic as it gets.
Pros
Gives you all the basics in an attractive, and competitive price tag.
Has enough features to keep experts, and children using the pen.
The LCD screen is always a welcomed addition.
Cons
It is hard to differentiate it from another 3D pen or vice-versa.
2. LIX PEN UV – Best 3D Pen For Professional Use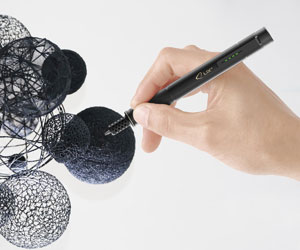 This tiny and smart 3D printing pen from LIX is a great choice for any artist looking to tap into their profession in a ground-breaking way. Unlike similar 3D pens in the same price range, LIX PEN UV has great potential. Designers, architects, or anyone interested in 3D printing can achieve great fete with this pen.
What I love about LIX brand is that they came out with a very forward-looking design in an attempt to disrupt the 3D printing pen market.
I bought my LIX PEN UV at a retail price of only $99 USD and it comes with several fabulous upgraded features from the previous model. This is actually cheaper compared to the previous model I tested. LIX says that this is because their advanced R&D process minimized production costs and they passed on the savings to the customer.
The internal components and structure of this 3D pen have been updated and reconstructed from the previous models, making it more durable and accommodative. You can use a wide range of filaments like fluorescent, translucent, or wood and metal-based plastic filaments.
The heating and pulling mechanisms for the LIX PEN UV have been streamlined to enhance stability, hence improving the flow of filament from insertion to extrusion points.
You'll never experience clogging with this pen, thanks to the reconfigured evacuation system that eliminates plastic dust from the internal components.
I like beautiful and portable gadgets, and the manufacturer has done a great job in aesthetics by making the LIX PEN UV much shorter (by 15mm) than the previous models. It's actually the tiniest circular 3D pen in the world today. The color range has also increased to include the new option of Gold as well as the standard Silver and Black.
The LIX Pen UV combines a great pen and a 3D printer in a single package, allowing you to create solid freestanding objects hassle free. The package comes with two packs of ABS filament containing 40 (20 cm long) rods each to get you started.
What I liked:
With its ridiculously small size, the 3D pen also offers great performance in a wide range of environments. It isn't anything like the noisy counterparts out on the market, so I find it great when working in quiet environments like libraries or in the office.
Another noticeable characteristic is the fact that it comes with a USB cable for recharging, unlike many 3D pens that require a power brick for charging.
I'm always on the move, and I enjoy carrying the LIX PEN UV and just the USB Plug without having to worry running out of charge. If I can't access electricity, I simply carry along my power bank and work wherever I go.
The LIX Pen UV is not only fun to play around with; I also find it extremely easy to use. Simply plug in the USB power cable to charge up the pen and start drawing.
What I did not like:
As much as I adore the tiny size and portability, it comes with limitations in terms of loading the filament. If I have to work on huge models that will take several hours to create, I have to stop to refill the filament. However, during my test, I tried a spool filament too and it works well for bigger projects. Using spool filament may void your warranty but it's a risk you could take if you want to work continuously.
However, for tiny objects, it's a great 3D pen to consider.
Some customers were unhappy with the previous versiom of LIX PEN (see comments below). The new version appears to have fixed the issues previously reported by some users.
Pros
Extremely lightweight
Easy to carry
Easy to use
Well-built and stylish
Heats up and cools down the filament pretty fast
Cons
Feels a little delicate
A little pricy compared to other 3D pen (due to his aluminum finish probably)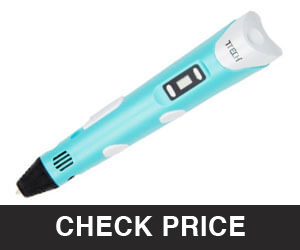 The next up on our list is the 7TECH 3D Printing Pen. This pen was made to be easy to use and user-friendly. With that said, the company ensured us that the product will have an incredible silent operating mode. Additionally, the pen comes with several features that make this 3D printing pen, one of the best we have seen.
The 7TECH 3D printing pen has some advanced features that are welcomed add-ons. For instance, it comes with one of the best thermal controls we've seen. Also, the 3D printing pen notifies you about filament getting stuck. Furthermore, if you hate super-fast or super-slow extrusion of many 3D pens, you don't have to worry about this. The pen lets you control the extrusion according to your own preferred speed.
We only found two issues with this pen. Lack of supplied filaments and how hot the pen can get when it's fully operational. Another thing to keep in mind is when you are operating the pen, the temperature can get incredibly high. The temperature can get to the extent where it may cause damage to your skin if you get in contact with it. With that said, we realized that the supplied filament wasn't enough. However, companies throw these in for royalty. All in all, the 7TECH 3D Printing Pen is one of the finest 3D printing pens we have used and is one of the top 3D pens in this list.
Pros
Easy to use for newcomers and veteran artists.
The pen is lightweight and rather slim. A welcome addition.
The 7TECH 3D printing pen comes with an advanced unclogging system which prevents the filament from clogging after cooling down.
There is an aluminum spatula included that protects your fingers from the hot nozzle.
The 1 year warranty is an additional bonus.
Cons
The operating temperature can get unbearable.
This pen is not easy to use. (Not for a Newbie or Kid)
The supplied filaments are not enough.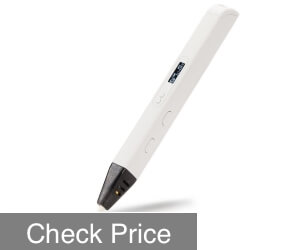 Next, we have the MYNT3D Professional Printing 3D Pen, as far as my experience is concerned with this 3D pen, I personally find this extremely satisfying, and easy to use. 3D pens are supposed to be lightweight in order to ensure proper ergonomics and an easy using experience. You do not want a 3D pen that is heavy, and cannot be used properly because of that. As far as the ergonomics are concerned, this pen is not easy to beat thanks to the lightweight and solid construction, as well as the shape of the pen itself.
The pen also comes with a small OLED screen that displays various modes that you might want to use on the 3D pen; while most users might consider this as a gimmick and nothing more, I think it is a nice addition and should make its way into more 3D pens in the future. The pen also allows you to adjust the speed as well as the temperature to ensure proper control over how the plastic is melted.
The nozzle can easily be removed to ensure that you can clean it after a thorough use; the difficulty behind nozzle removal is something that plagues many 3D pens, luckily, the issue is not here on the MYNT3D pen, because the nozzle can be detached for those who are looking to clean the pen itself.
I should mention that the 3D pen supports both PLA, and ABS plastic filaments; these filaments can be found in variety of colours in the market, and even some textured material ones if you want the extra flare. As far as the user experience is concerned, the learning curve is certainly there, but practice can make you adept at it in no time.
The one issue I have is that the instruction manual that comes with the pen is vague at best, and for those who are going to rely on the instruction manual, it might be a bit difficult. To tackle this, there are comprehensive tutorials available on the internet that you can use at your will. Other than that, it is hard to say that the MYNT 3D Professional Printing 3D Pen does anything wrong. It is the best 3D pen for professionals, that is because it provides you with great ergonomics, and the OLED display is very useful, not to forget that the nozzle can be removed for thorough cleaning to avoid any other incidents.
Pros
Provides great user experience.
OLED screen is a great addition.
The ergonomics are amazing.
Supports both PLA and ABS filaments.
The nozzle can be removed for cleaning.
Cons
The instruction manual could have used a bit more depth.
If you are looking a 3D pen for a kid it is important that the 3D pen you are buying is safe to use and does not have a steep learning curve.
Most of the 3D pens that I have reviewed so far failed on that; however, the DigiHero 3D pen caught my attention because it is a 3D pen that markets itself safe for children. Is it really safe for children? I wanted to test and find out.
Right out of the box, you will realise by the design and construction of the pen that it caters to children; the pen is lightweight. On top of that, you get 12 PLA filaments of random colours in the box, each 10 feet long. In addition to that, DigiHero also includes a removal tool to remove the filament that is not in use, a penholder, and a wall charger that charges your pen using a micro USB.
So far so good, but what about the performance? Well, as I expected, the performance is what you would want in a 3D pen for kids. The pen lacks more of the advanced features like the removal of nozzle, or a mechanism that can prevents the plastic from jamming when cold. These are the features that we have come to expect from many 3D printers in the market, but that is understandable, especially when you consider the price of the pen.
Honestly though, as far as the proper user experience goes, advanced users are not going to enjoy using DigiHero. But when you see how the pen is being marketed, or priced, it's clear that this pen is not intended for advanced users. However, it is sad to see that despite being advertised as a pen for kids, safety features such as prevention of the ink getting jammed, or the pen stopping operation when it reaches a threshold temperature.
It is a great 3D pen for kids, but other than that, the pen feels incomplete due to the cheap construction material that is necessary in modern 3D pens, and have a demand of their own.
Pros
Great value for money.
Comes with 12 PLA filaments that are a nice addition.
It is easy and simple to use for kids.
Cons
The pen has a cheaper construction as compared to others.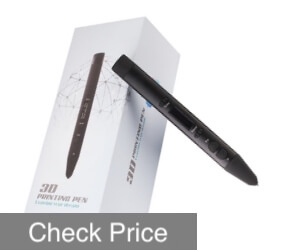 The AIO Robotics Full-Metal Premium 3D Printing Pen has a lot to offer for people in professions that require drawing complex models. It's elegant, super slim, and comes with an ergonomic touch. The grip is extremely comfortable therefore easy to design and 3D print with high precision.
You get to fully control the way your pen draws. You determine the flow and speed of the ink. You can also raise or lower the temperature in single increments. The constant flow and speed of the ink, as well as the adjustable temperature, ensure that you have an easier time while crafting your art. The pen comes with a bright OLED display for easy monitoring of the speed and temperature of the printing material.
When it comes to printing materials, you have a variety of plastics to try out, including ABS and PLA.
What I liked:
I have worked with a lot of 3D printing pens before but haven't come across one that's stylish and easy to use in that price range. It's my first time with the Full-Metal Premium 3D Printing Pen from AIO Robotics. I had it unboxed and tested in under ten minutes.
This pen did not overheat. It only took a couple of minutes to reach the target temperature of 350 Fahrenheit (180° Celsius) after plugging in. From my experience, 3D printing pens can get pretty hot at this level of temperature. To my surprise, the pen only got a little warm and it was very comfortable to use.
I love how the pen's feed buttons are placed close to the bottom, which means that I can start/stop the flow of the filament as I print. There's no need to move to a different area or waste the filament as I readjust. It's also very easy to change the filament, I admit that I've made a little mess but that's only because I overthought the process.
The pen comes with a USB charging port, so I did not have to worry about plugging it in. I just used my smartphone charger to fully charge it whenever I was not using it. A power bank, too, will suffice.
What I did not like:
This pen can create a mess, but that mostly arises from incorrect use or unfamiliarity. It took me some time to learn how to use it properly and actually have fun at it. Also, this pen isn't designed for long-term use.
Pros
USB charging, you can use a power bank.
Feature loaded.
Best for printing on flat surfaces.
Cons
Flimsy build.
Not suitable for children.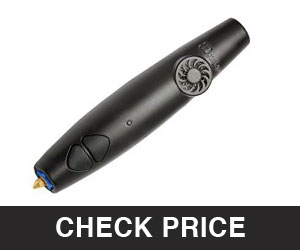 Next is the 3Doodler 3D printing pen. The stylish pen comes with 50 plastic filament, which is the most number of filaments we have received from a 3D printing pen. Also, the overall look and feel of the pen is fantastic. Even more, the color (black) we received for reviewing made the pen look like something that came from a Tom Clancy novel. Before we begin this review, this pen is not related to another product that goes by the same name.
This pen might be one of the best-looking 3D printing pens available in the market. The best thing about this pen is that it comes with 50 filaments, which are easy to replace and don't get clogged. The testing phase revealed that the pen manages to work perfectly on almost all surfaces. Also, the pen is easy to use, especially for the veteran artists who have good experience with drawing and using such tools. As for newcomers, there is a slight learning curve.
In all honesty, we didn't find any cons with this product. There were some concerns, but pointing them out would be nitpicking as almost all the 3D pens we have reviewed had these issues.
Pros
Sleek and innovative design.
The build quality is one of the finest.
50 provided filaments is a nice bonus.
The 3D pen is really easy to setup.
Cons
Offers a learning curve for newcomers.
The pen is somewhat heavy as compared to others in our lineup.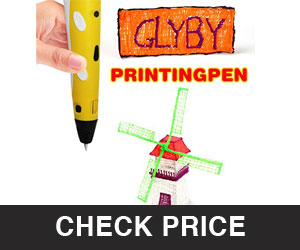 Our next entry is the Glyby Intelligent 3D printing pen. Reviewers and users have said this is one of the best 3D printing pens ever available. Granted, it's not as good-looking as other 3D printing pens but it still manages to perform well.
The Glyby Intelligent 3D printing pen might be the cheapest 3D printing pen available in the market. Just $50, and it manages to give a groundbreaking performance. Also, the pen works on almost all the surfaces. With that said, the 3D printing pen was put together with kids in mind. If you want something for professional work, you probably should spend your money on another pen. The pen is easy to use for kids and has enough features to keep them happy for a long time. As long as kids operate the pen under proper supervision, things won't go wrong.
At the given price, there isn't anything to complain about this pen. While there are better 3D printing pens available in the market, they are usually above $90. All in all, the Glyby 3D printing pen is a fantastic gift for kids who are always up for learning new and exciting things.
Pros
Cheap and easy to use.
The pen has an appealing look that will please kids.
Good build quality.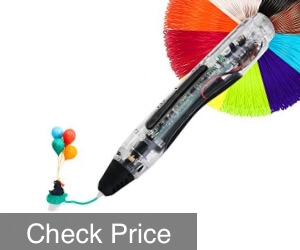 If you are in search of a 3D pen that you can use to practice doodling, the TRLife 3D Doodler Pen is a great option. According to the marketing material, this is the 4th pen version, and comes with a lot enhancements such as a mechanism that ensures that no filament ever gets jammed into the pen itself. You can actually see this mechanism thanks to the transparent body of the pen.
How does it fair? Good, actually; you are paying half the price you would pay for a premium 3D pen, so it is only fair that you have a better understanding of what you are paying for, and what you are actually getting in return.
It was nice to see TRLife included drawing templates for beginners, as well as a transparent sheet to help you draw and practice better. I love when companies do that because it just means that you are adding value to the product, not something many companies do in the first place. Is this the best 3D pen in the market? Not quite, but that does not mean that one should not highlight the good points such as the abundance of accessories, as well as the one button operation that helps the kids.
However, I have to mention some of the negatives that I noticed during my time with this pen; the first thing is that the 3D pen only supports PLA filament, and even though the thickness is standard, it does not support other plastic types. In addition to that, the whole concept of pen is to provide ease of access, and while I understand it, the elimination of additional buttons is not something I am a fond of; you only get one button for all the controls, and that is not enough.
In conclusion, the TRLife 3D Doodler Pen is a good 3D pen for the price you are getting it at, but do not expect more from it because there are some glaring shortcomings that might put you off in the first place such as the limited functionality, and the fact that there is only PLA plastic that is supported. It is the best 3D pen for simplicity, but the simplicity can also cause many issues for hardcore users, or enthusiasts.
Pros
The see through body is cool.
The pen comes with enough accessories to keep you entertained.
The one-button operations is good for people who want ease of access.
Cons
Only PLA plastic is supported.
There are no additional buttons for added flexibility.
No advanced or outstanding features.
Limited functionality.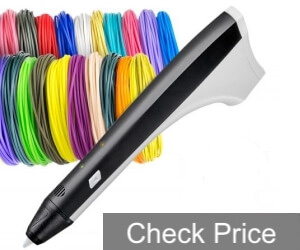 BeTIM advertises their doodler, in part, to kids and teens, but I was glad when I opened the box to see that it wasn't a bright blue or sparkly pink, as some kids' pens are. With an advertized weight of only 1.6 oz, BeTIM's 3D doodler is certainly light enough to not fatigue kids' wrists, but its black-and-white style is suitable for both adults and children. I also liked that it felt comfortable in my left hand – it can be awkward to be a left-handed person living in a right-handed person's world. Best of all, I found BeTIM's doodler to operate as well as some of the more expensive pens on our list – though it does lack some features that pricier brands offer. But with this blend of ease-of-use and functionality, it's easy to understand why BeTIM markets their doodler to kids, teens, and adults.
Product Highlights
BeTIM's doodler can use both PLA and PCL plastics. Because the plastics have different characteristics – PLA cools into a hard plastic; PCL is softer and more malleable – they have different applications, and it was nice to find that versatility in a single pen.
BeTIM ships their doodler with 150 ft of PLA and 150 ft of PCL filaments. This is a sharp contrast to some of the other pens on our list, which are usually packaged with just a few, much smaller filaments. Moreover, BeTIM's doodler uses spool-style filaments, which are longer than the rod-style. This meant that I was able to work on longer projects without having to stop and reload (with some other pens I looked at, their fine print warned that loading their pen with spool-style filaments would void the warranty). This might not seem like a big deal, but when you're in the middle of free-handing a large or intricate design, not having to stop every couple of minutes to change the filament is a real blessing.
BeTIM also ships their pen with two finger guards and a mat. The mat is meant to protect the workspace. While this is a nice feature, I found that any plastic that dropped onto my table either didn't stick at all, or pulled right up without affecting my table's finish (if you're buying this for someone younger than 28, you might get more mileage out of the mat). The finger guards help to prevent the user from touching the pen's ceramic tip, which does get very hot. The plastic itself cools almost instantly (and can even be worked by hand), but the pen's tip gets hot enough to burn (a lesson I'm proud to say I only had to learn once… so far). For a pen marketed in part to children – who might forget where their fingers are, choke up on the pen, and burn themselves on the nib – this is a nice addition.
The stencils that come with the doodler look like they'd be great for beginners (I thought most of them were a little simple, but I wasn't exactly a beginner when I picked this pen up). Looking through them, it looks like they'd work really well for introducing new users to the different techniques that are used to draw 3-dimensional objects. While there are a lot of similarities between 2D and 3D drawing, adding that 3rd dimension does require – or allow for, depending on your perspective – some changes.
What I liked
My favorite part about this pen isn't just that it uses spool-style filaments, but that its replacement 'ink' is affordable (240 ft for $11). Some other brands on our list use proprietary filaments – loading some pens with an off-brand refill voids their warranty. And when a pen uses proprietary refills, they are always far more expensive.
BeTIM advertises its doodler as being 'ultra lightweight,' and they aren't kidding. It barely feels heavier than a regular pen. While by the time I worked with this pen I was already an old-hat at 3D drawing, I can see where the light weight would help a novice make the transition from 2D to 3D drawing.
Another great feature about this pen is that it boots up in maybe half a minute – which is notably faster than much of its competition. 3D pens work by melting plastic, which means they have to be plugged in and given time to get hot enough to melt that plastic. It was nice for that wait to be so short.
What I did not like
Compared to some of the more expensive brands, BeTIM's doodler gummed up noticeably more often. This might have been caused by a safety feature that sometimes resets the pen after 8 minutes, which might have caused the pen's temperature to drop. It's not enough to make me not recommend the pen (especially at its price point), but it is worth mentioning that more expensive pens are out there, and that part of what you pay for is reliability.
Pros
Price
Lightweight design
Changing colors with this pen is easy and quick
Refill filament size and cost
Fast (30 second) boot up
Cons
Clogs up more easily than its more expensive competitors
Temperature can drop below target
3d Pen Buyer's Guide
Now, you should become familiar with its functions and applications before buying a 3D pen. The modus operandi is different with each brand. Between filament and design, there can be tons of variables. The newest 3D pen products may not share the same design as the world's first 3Doodler model. For instance, 3Doodler uses plastic filament which makes it easy to draw in the air. Real-time creation of 3D objects in serious pace was a real prospect. 3D pens don't have a long history too.
The very first project of its kind was funded as a kick starter product. Basically, you wouldn't have had too many variables you need to master in this 3D pen technology. The success of 3Doodler inspired another gem of a product in Scribbler. With productions in China, Scribbler was still able to deliver with a 6-month warranty and a return policy. If you don't know how to go about choosing your 3D pen, this can be trickiest of markets.
3D technology takes large steps as we speak. Nevertheless, there isn't too much to learn about. Evolution of this technology is easy to explain by comparing plastic and cool ink pens.
3D plastic pen vs. Cool Ink pen
3Doodler and Scribbler accounted for most products of 3D printing pens in the initial stage of 3D pens market. All of them used plastic for drawing 3D objects in the air. Successive development took place in the form of cool ink pens. These pens made drawing in 3D as possible as it was in the case of plastic pens. The added advantage to it was the riddance of hot parts. Without hot components, it was a safer option for all age groups, especially kids. In September 2015, cool ink pen models came out and have since competed for market share.
A few cool ink pens such as the 3D Creation Maker didn't provide users with an option of drawing in air. The drawing happens on a horizontal surface and the art is later hardened. However, it didn't match the feeling of drawing in the air. During November of last year, products like CreoPop came up with a solution. They put UV to use, thereby making drawing in the air possible. The plastic pens vs. cool ink pens sum up the evolution of 3D printing pens.
Additional Features
The first and foremost function of 3D pens is to draw 3D art or objects. The functions and design would facilitate filament loading, filament conversion, and drawing process. Additionally, some extra features can help. Standby mode is an example of a useful additional feature. Also, large LCD screens can give a product an edge over competitors. Some products even have a filament jamming detection system. Smart 3D pens come with options like thermal management, working LED etc..
Type of control: The quality of a 3D pen can increase with more control. For instance, the temperature is controllable in plastic 3D pens. You can also control the speed of drawing in a few products. The adjustable feed can help regulate flow and the speed of drawing. Continuous speed regulation elevates your comfort and the ease of drawing. Adjustable temperature can help fine-tune your drawings as well.Intelligent controls are what the new millennium product needs, to create massive appeal.
Design: Ergonomic design is a need of the 3D pens out on the market now. Slimmer 3D pens are preferable in the current market scenario. Best products are super small and are rechargeable, even through laptop USB. Design plays a huge role in how easy controls feel in your hand. The design should allow easy access to display and your view should flow seamlessly from filament to dropping ink or plastic. A lightweight and ergonomic design would enhance the quality of the 3D pen.
Filament type: Type of filament has a say in your drawing style. It determines how you hold the pen and which grip you would be getting. Filament contains the plastic element, which enables drawing. Right now, there are more than a dozen different filament types available in the market. As a rule of thumb, the easier it is to replace, the better it is for use. Easily replaceable filament type helps a great deal later on because it makes your 3D pen usable for a long time. There are 4 major categories in filaments – Standard, Flexible, Composite, and Specialty.
Brand name: Brand name definitely matters in this young technology. 3Doodler invented the world's first 3D printing pen. Scribbler offers the luxury of 6-month warranty. However, their production model is based in China. Some brands are proving to be innovative. Compare brands and models on the basis of quality and features available. False marketing is what you may commonly see in this category of products. It's your responsibility to examine the brand and know what to expect.
Check Reviews: Word of mouth doesn't work for 3D pens on reputation or marketing. If it did work, every 3D printing pen artist would be first generation users. You have to trust internet reviews and marketing claims. Read customer reviews across different shopping sites. Therefore, beware of fabricated reviews and spot them when things look too good to be true. It's the easiest way to determine the quality and worth of your product. Reviews are the first-hand information you need before deciding if the product will work or not. Many 3D printing pen models have made promises but didn't follow through. Get more information through video reviews on YouTube. This way, you can see for yourself, how these pens work.
Conclusion – Wrapping it up
In conclusion, this market is new but there are many choices out there for 3D pens. Hopefully, our list will assist consumers in picking the best possible 3D printing pen.
Top Rated 3D Printing Pen